Call me crazy, but doesn't Sushi fall into the category of Adornments of the Soul?

Fun and Festive-Check
Great to look at-Check
Good for the tummy-Check
Artistic and inventive-Check
Colourful-Check

Because I don't EVER cook, I have never actually made sushi, but I do seek out the good Sushi restaurants wherever I travel. For example, few months ago when I was in Melbourne for 4 days, I treated myself to sushi 4 times!
(But if you do cook...watch this U-Tube Video......How to Make Sushi
or go HERE or for sushi supplies in Australia...go Here

Many, many years ago, I made jewellery under the label "Wild Thing Wearable Art"…and it was indeed wild. At that stage I would have probably been tempted to hang an ear wire on some particularly delectable piece of sushi and called it jewellery….I'm still tempted by the actual concept of this.....hmmmmmmmmmmmmm…..off to the studio I go!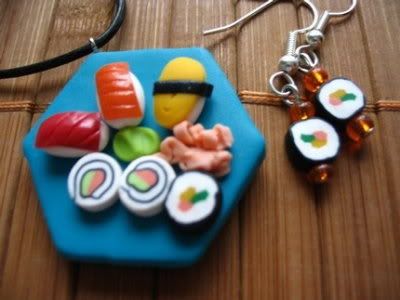 Of course there are those who do make sushi jewellery...for example: Here.....